Terry Bernadino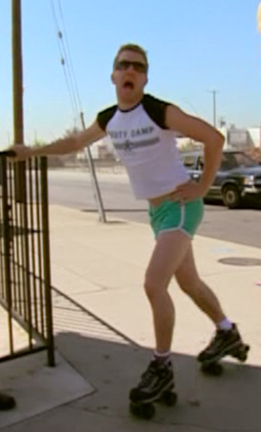 AKA:----

Portrayed by: Nick Swardson
---
First seen: Execution Tickets
---
Episode Count:21 "I'm so clean it's not even ridiculous"
Terry is a gay roller-skating prostitute who has frequent run-ins with the Sheriff's Department.
Occupation
Edit
He has occasionally been given work release, working at such establishments as Tacos! Tacos! Tacos! Tacos! Who Let the Clogs Out and Talk To The Band. He has also made attempts to do freelance work selling oranges to people at traffic lights, doing people's taxes, giving pap smears out of a van and to run for president for the year 2020.
Relationship Status
Edit
Engaged to girlfriend Seeeeemji (the J is silent) after purchasing her ring at "Lord of the Wedding Rings." The two of them are 'expecting,' though Terry has a medical condition that prevents him from actually having intercourse with Seeeeemji (played by Christina Applegate).
Appearances
Edit
Rick's On
Spanish Mike Returns
The Tanning Booth Incident
Hobbies and interests
Edit
W
Singing
Skating
High-fiving
Low-fiving
Tacos
Drugs
Hand Jobs
Prostitution
Inventing Jail Gangs
Rap
Pew Pew Pew
|}
Ad blocker interference detected!
Wikia is a free-to-use site that makes money from advertising. We have a modified experience for viewers using ad blockers

Wikia is not accessible if you've made further modifications. Remove the custom ad blocker rule(s) and the page will load as expected.