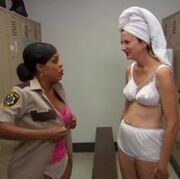 Season 6, Episode 15 – Aired: 7/8/2009
---
Pre-Title Sequence:
The crew watch another video from Craig Pullin for his unborn child.
Episode:
The morning briefing sees Dangle addressing unauthorized TV interviews.  At the coffee shop, Dangle is given black coffee which he misreads as a signal that the shop is being robbed.  Wiegel asks Williams to go to couples therapy so she can continue receiving benefits.  Junior and Dangle at the High School security detail.  Wiegel and Williams at the therapy session.  Junior and Jones check up on Ranger Glenn.  The gang help a dad feel cool by telling his son he's an undercover cop.  Back at the therapy session.  Wiegel and Rizzo dispose of evidence.  Junior addresses Cindy for reorganizing the filing system.  Back at the High School security detail.  A meeting about health benefits.  Back at the therapy session.  Jones and Dangle sing for students about "it's okay to be gay".  Back at base, Williams and Wiegel freak out their co-workers with their new therapy talk.
Guest stars: Jane Lynch, Matt Besser, Aziz Ansari, Paul Scheer, Paul Heubel
Ad blocker interference detected!
Wikia is a free-to-use site that makes money from advertising. We have a modified experience for viewers using ad blockers

Wikia is not accessible if you've made further modifications. Remove the custom ad blocker rule(s) and the page will load as expected.